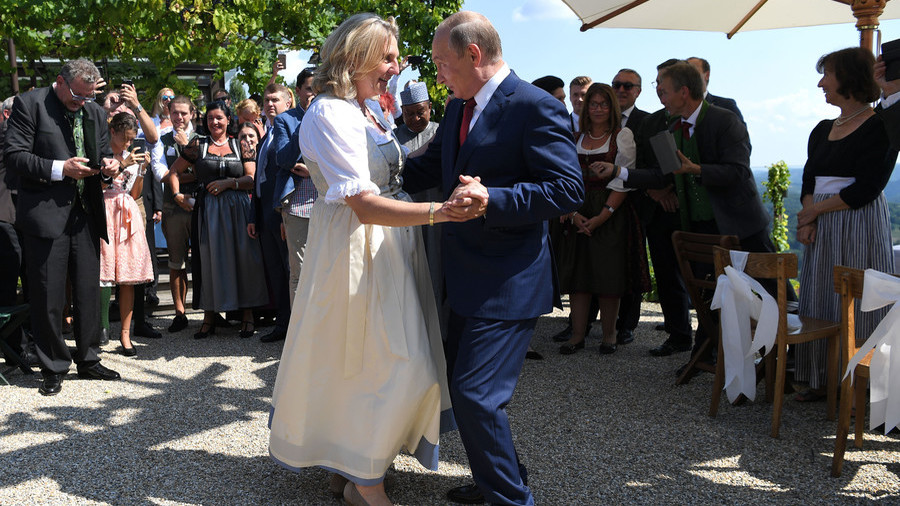 Special guest Vladimir Putin arrived at the Austrian foreign minister's wedding with a beautiful bouquet of flowers for the bride. Karin Kneissl is tying the knot with multi-millionaire entrepreneur Wolfgang Meilinger.
The Russian leader didn't arrive empty-handed. Not only did he give the bride a beautiful bouquet of yellow and white flowers, he also brought along the Kuban Cossack Choir to entertain the newlyweds and the guests. Putin also had a dance with the bride.
Putin was invited to attend the wedding en route to his upcoming visit to Germany. The ceremony is taking place at a vineyard in the village of Gamlitz, in Austria's Styria region.
The bride and groom chose traditional attire for their special day. Kneissl donned a white dirndl, a traditional Alpine dress, while Meilinger was dressed in a green vest and black trousers.
The VIP guest list also includes Austrian Chancellor Sebastian Kurz, Vice Chancellor Heinz-Christian Strache, and Transport and Technology Minister Norbert Hofer.
Like this story? Share it with a friend!