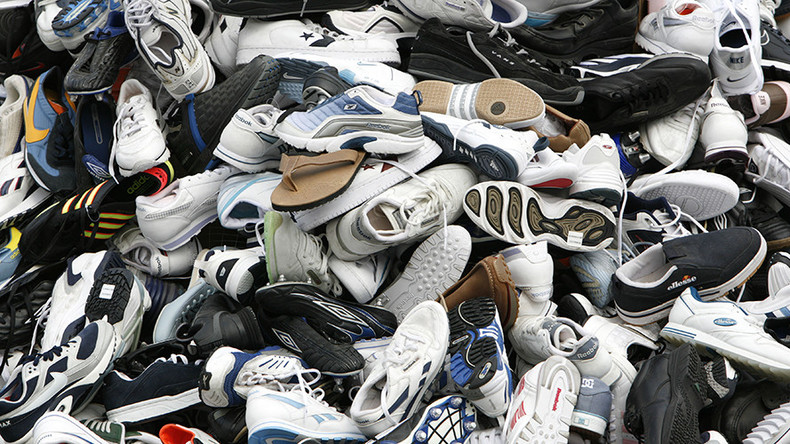 A new viral 'color' debate – similar to the infamous dress argument of two years ago – has ignited online and this time a humble shoe is at the center of the shade controversy.
Social media users are squabbling over the true color of the shoe, with some insisting it's pink and white while others say it's clearly grey and mint green.
The image initially surfaced in a private Facebook group before spreading to Twitter, with tweets of the image garnering thousands of retweets and likes as the debate raged.
Though gathering plenty of momentum online, the argument has not quite reached the peak traffic of the 'blue and black' or 'gold and white' dress debacle of 2015.
READ MORE: ​The world is on fire: Who cares! It's #TheDress color that matters
While quarrels continue to rage across social media, some Twitter users are offering explanations for the color conundrum, stating that the skewed image is as a result of a camera flash and photo editing.
Others added to the confusion by saying they saw both colors at different stages.
Bevil Conway, a neuroscientist at the National Eye Institute in the US, told the Guardian this color illusion was caused by the brain trying to color correct.
"In the original photograph the human hand (holding the shoe) is clearly a normal color, whereas in the other photograph it is clearly weird. So when your visual system sees the weirdly lit hand, it tells your brain 'hang on, the color of the light must be kinda funny, fix it!'"
Similarly scientists explained the different views on 'the dress' as down to how the human brain perceives color and chromatic adaptation.
READ MORE: Internet & dress part 2: What color are these flip-flops? (POLL)
The shoe has apparently been identified as a Vans women's shoe called 'Old Skool' (should you desperately wish to live out the color debate in person). The footwear comes in mahogany rose and true white, but not grey and teal.